Made in Britain
OEM Quality
No drilling required
Transferable between vehicles
Gearmate carries a vast array of ISUZU D-Max accessories and storage solutions, designed and produced solely in the UK, which will revolutionise your 4X4 load bed such as:
ISUZU D-Max Drawer system
ISUZU D-Max Bed Slide
ISUZU D-Max Hardtop
ISUZU D-Max Dog Box
ISUZU D-Max Tool storage
ISUZU D-Max Gun Drawer
Intended for the ISUZU D-Max double cab, the simple to fit no-drill method won't jeopardise your manufacturer's vehicle warranty. Click here to see our factory and manufacturing process.
Accessories for the all-new ISUZU 2021 D-Max have arrived!
Compatible with all ISUZU D-MAX models:
DL20 . DL40 . V-Cross . XTR . UTILITY
Call the sales team on T: 01789 595 200 to  secure your new 2021 D-Max Accessories today!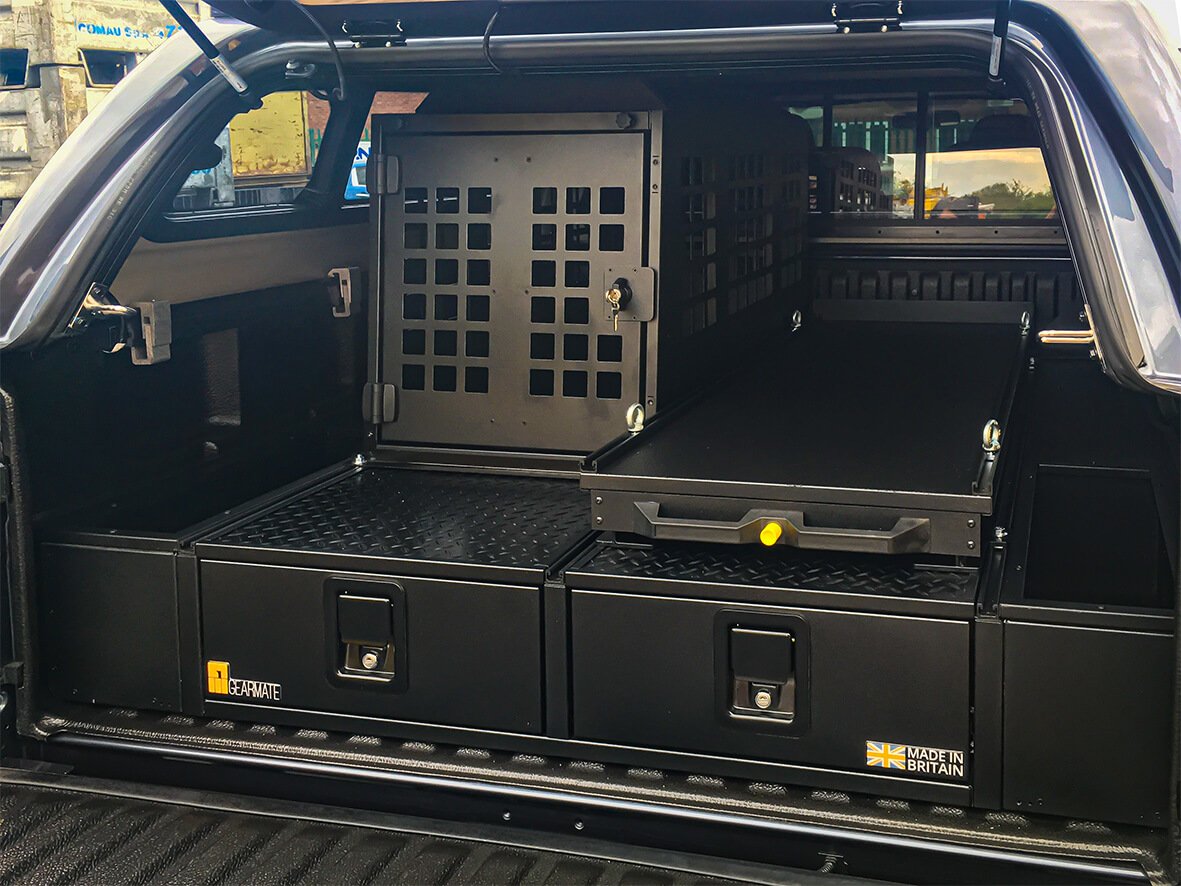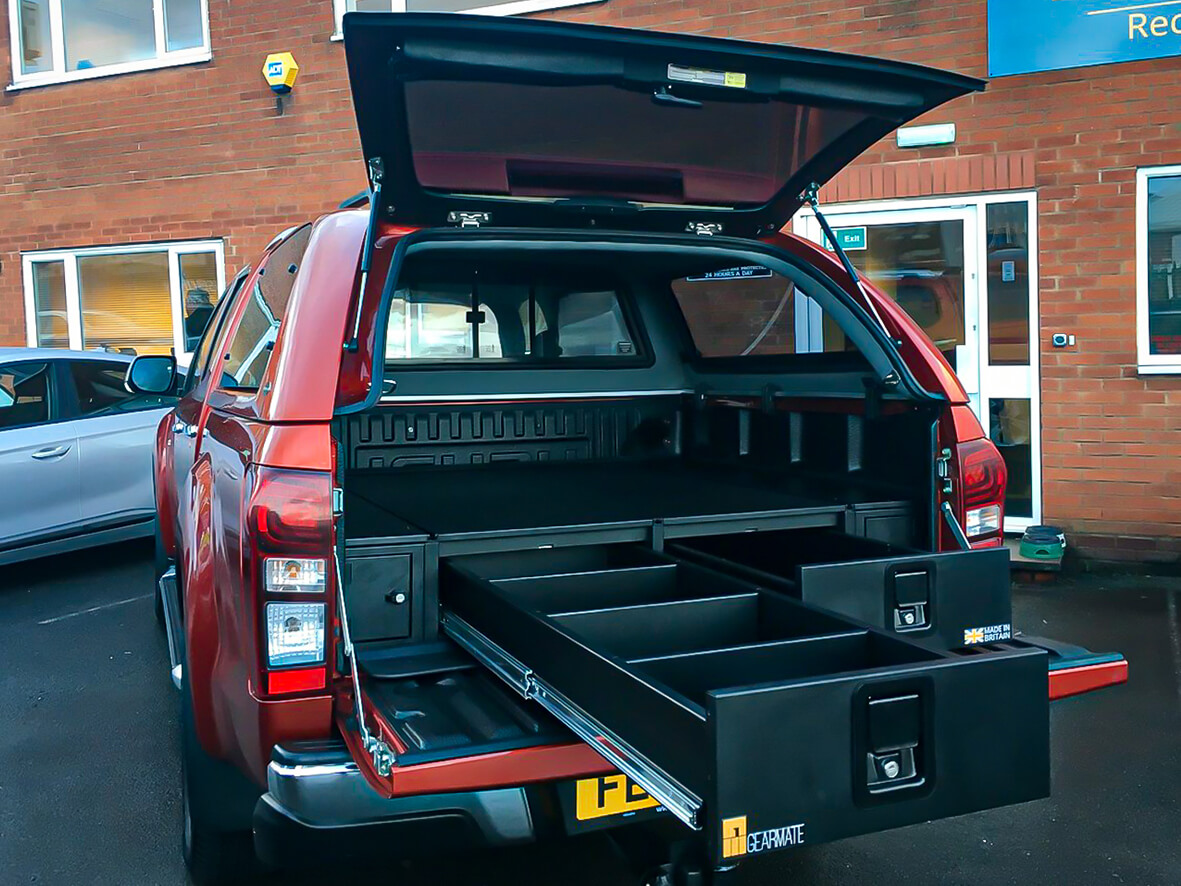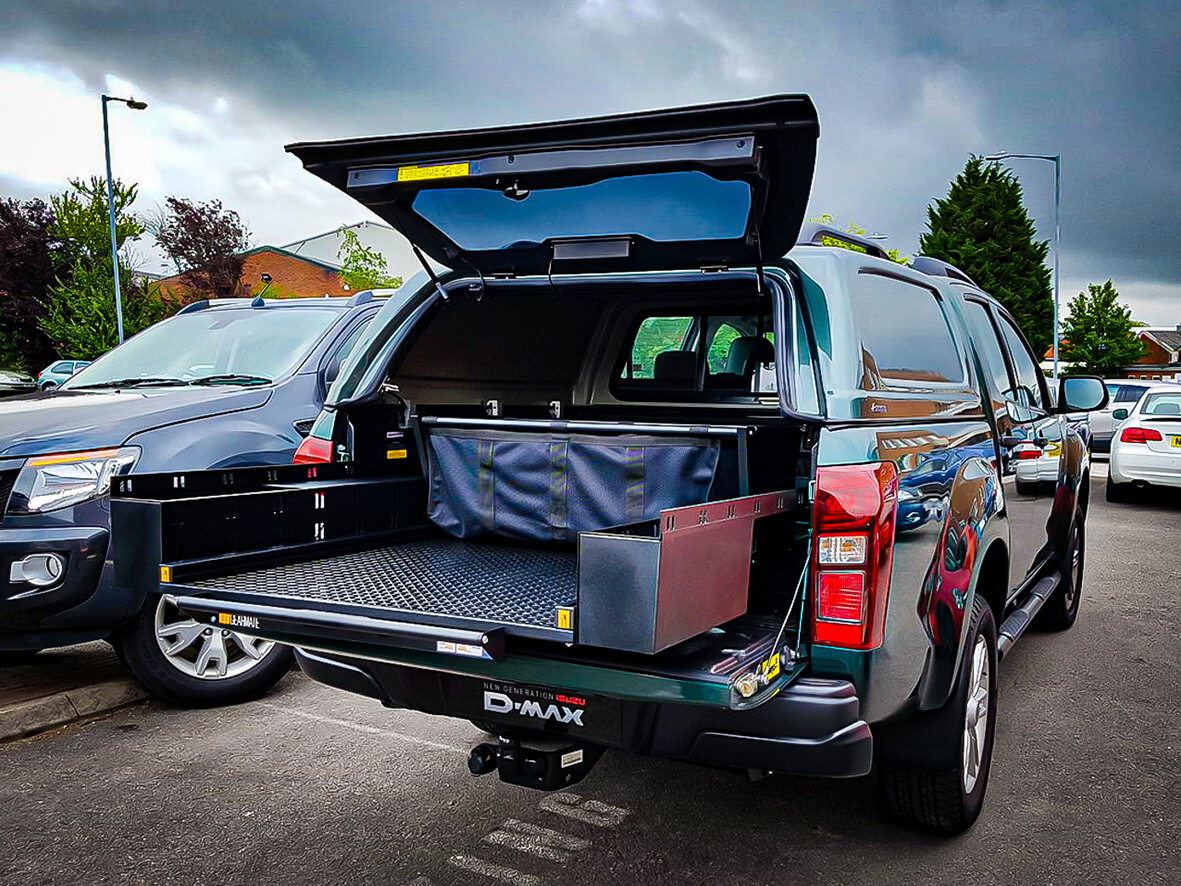 Modular, Simple
&

Unique ISUZU Accessories

The scope of Gearmate ISUZU D Max accessories and storage solutions can be applied to company fleets or personal off-road machines. Lightweight aluminium Gear drawers and collection of sliding trays keep your possessions shielded, well-managed, and provide excellent access.

With 800kg load capacity on our Geardrawers deck, there is no need to remove the storage system to transport heavy loads. With 100% extension and drawer dividers, it's easy to access your gear and keep it organised to make life easier.

Gearmate bed slides have an incredible 100% extension, meaning you'll never need to crawl in the back of your truck bed to find anything ever again! When closed, our bed slides have an 800kg load rating and 400kg when extended. All Gearslides bed slides are finished with a durable rubber deck and security features include a hand operated locking lever with 4 incremental locking positions between closed and fully extended.

We can modify all modular systems to suit your needs with added racking, tailgate covers, dog boxes, narrow slides and hammock options.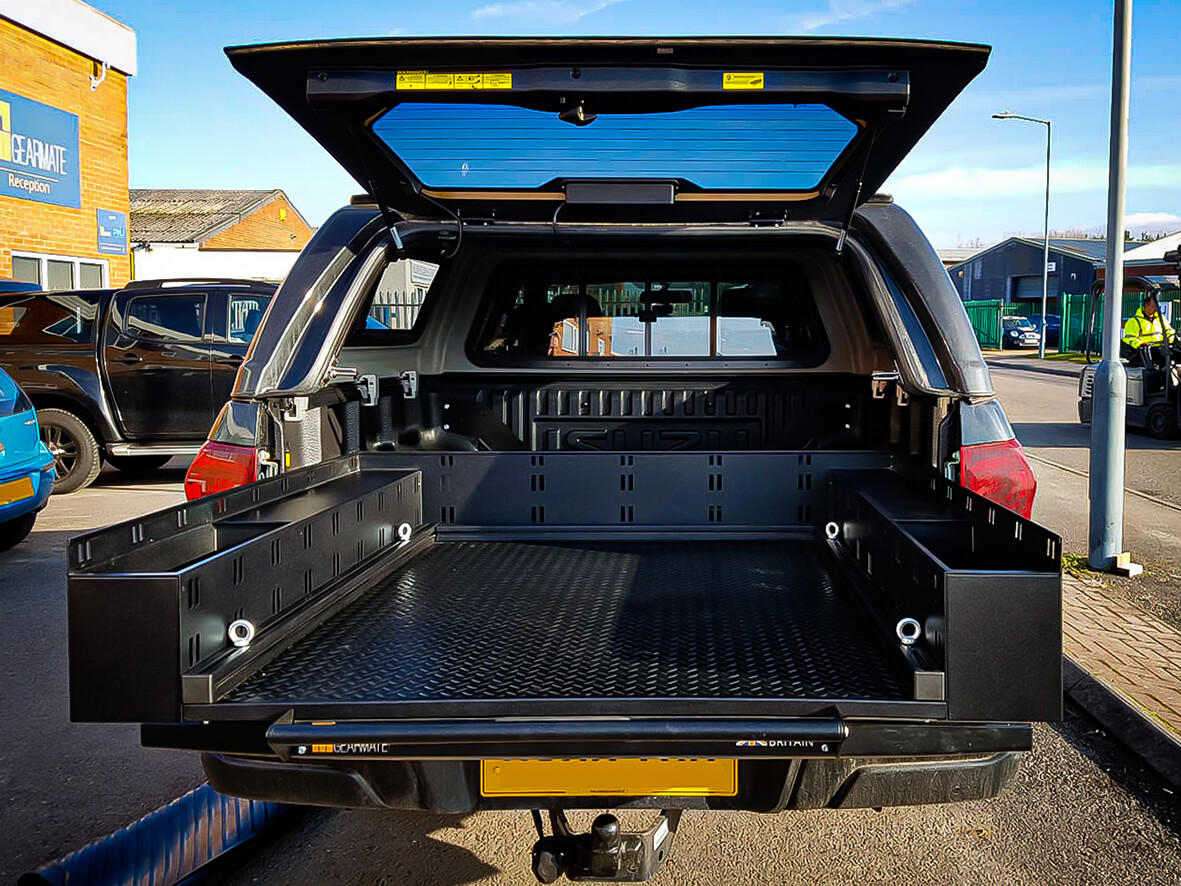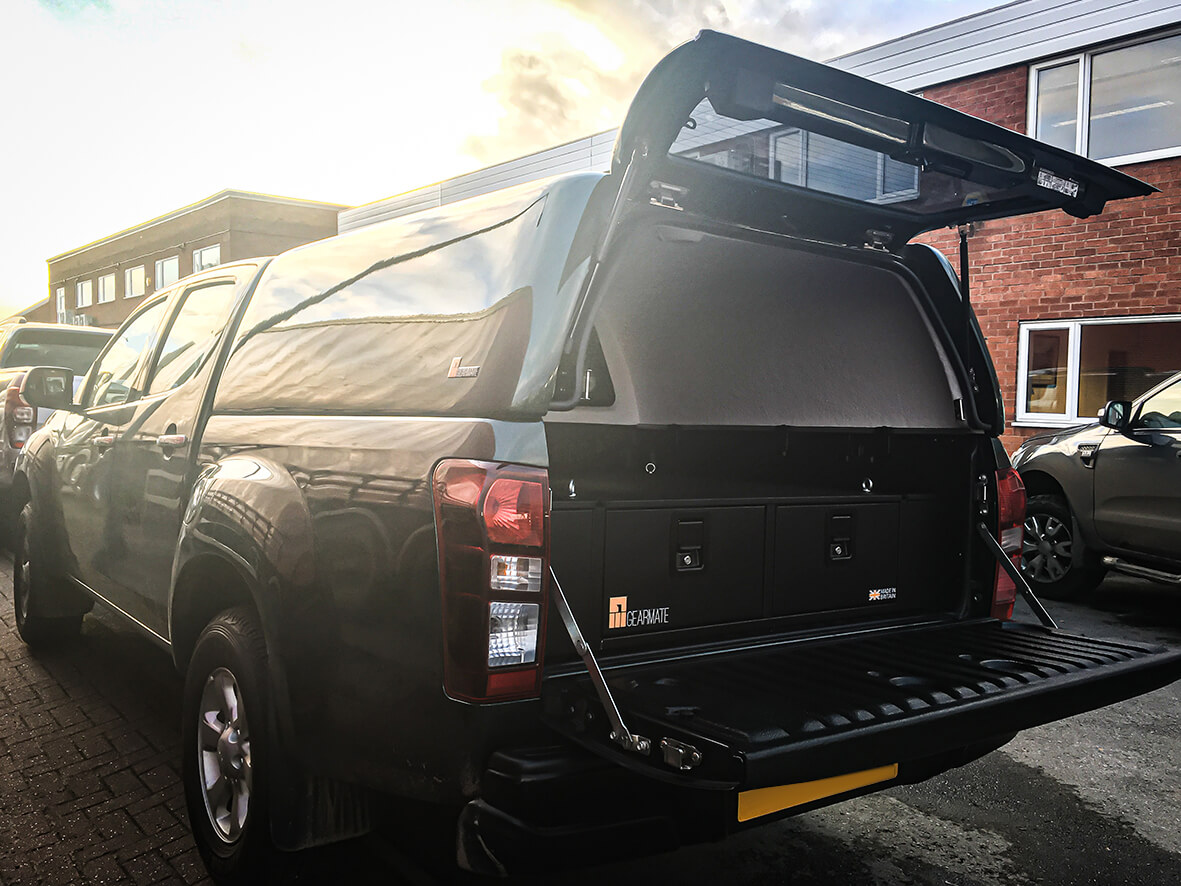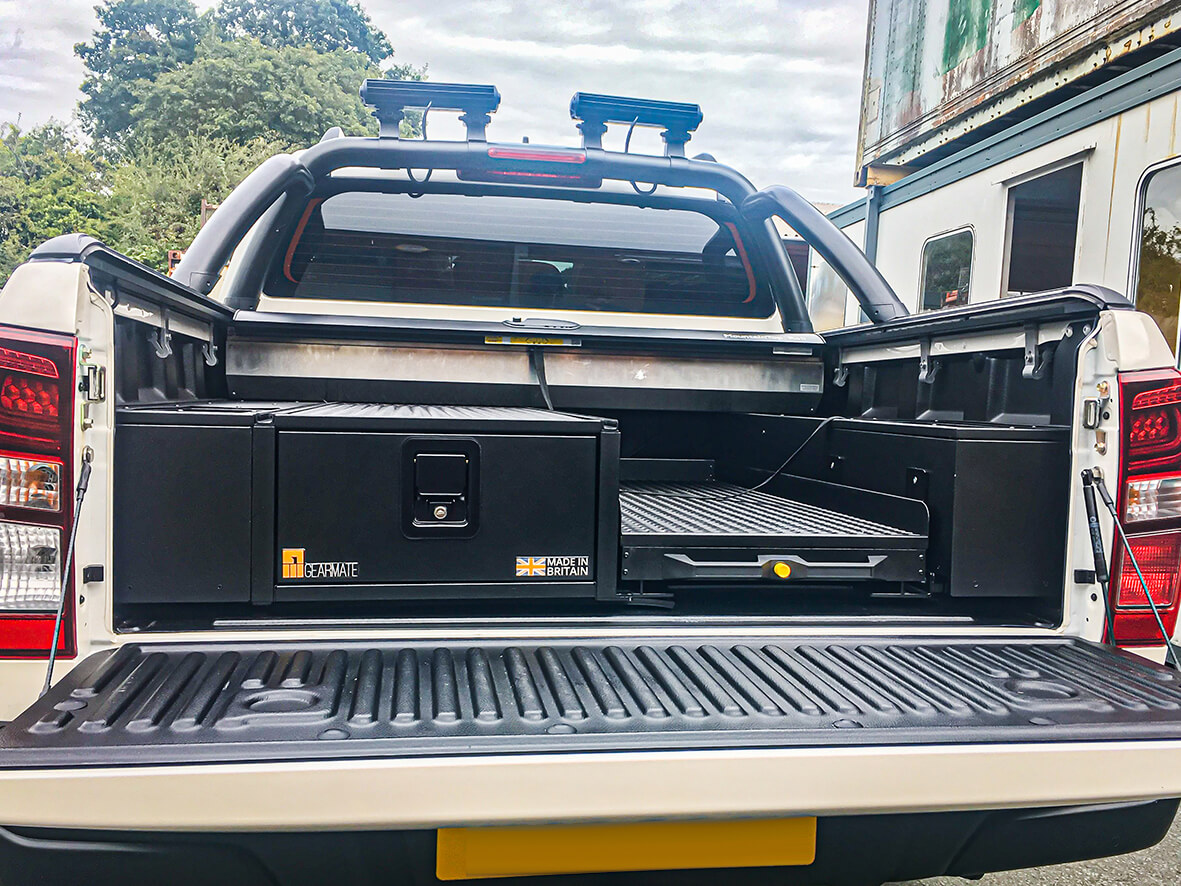 Secure storage for your Isuzu D Max
All Geardrawers are lockable as standard. Gearmate also specialises in designing robust storage gun drawers, firearm drawers and ammunition storage. By British Standard BS 7558 guidance, Gearmate furnishes all gun cabinets and ammunition lockers with locks that adhere to BS 3621.

high quality
Made in Britain with superior quality materials.

no drilling
Hassle free installation with no damage caused.

save time
For every minute spent organising, an hour is earned.

secure storage
Have peace of mind knowing your belongings are safe.

transferable
Easily transferred between vehicles if required.
Design Your Own ISUZU Accessories
Use our Build Your Own feature today to design a system to suit your own needs. With our variety of modular storage options, you can test different solutions and view the pricing too. Alternatively, you can get in touch with our sales team who are skilled and experienced in helping customers find the best Gearmate system for them.
Email

Call