Sports and leisure
Our storage systems are perfect to accompany you on your adventures, they provide a hassle-free, effortless solution for organising and accessing all of your gear. Spend less time stuck in the back of your vehicle searching for supplies and spend more time enjoying and exploring new places.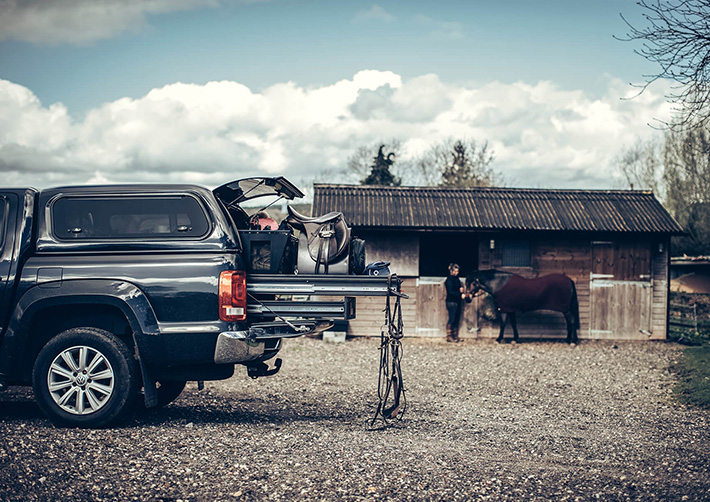 do what you love
"For every minute spent organising, an hour is earned"
Good organisation helps you avoid wasting time, meaning you can spend more time doing what you love. Whether you're a passionate horse rider, snowboarder or a keen camper, our systems make life easier and are the perfect aid for organising your gear.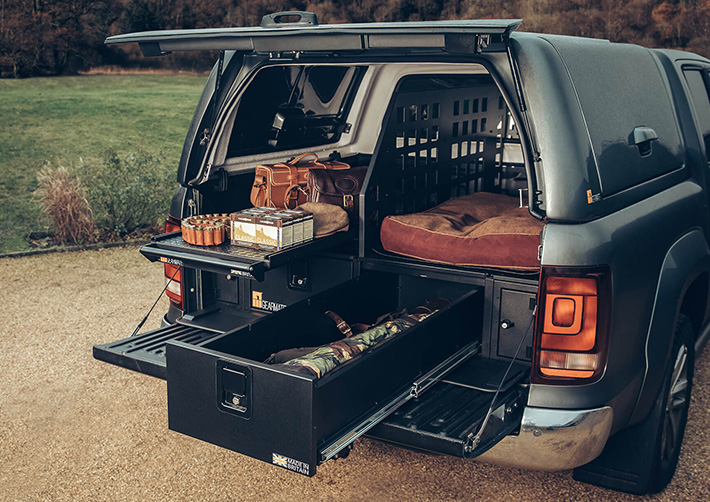 secure storage
Give yourself some peace of mind with our secure lockable storage. Gearmate drawers provide up to 150kg extended load capacity, and they are all lockable as standard. If you require additional security due to the nature of your items such as firearms or high-value kit, get in touch with us to see further available options.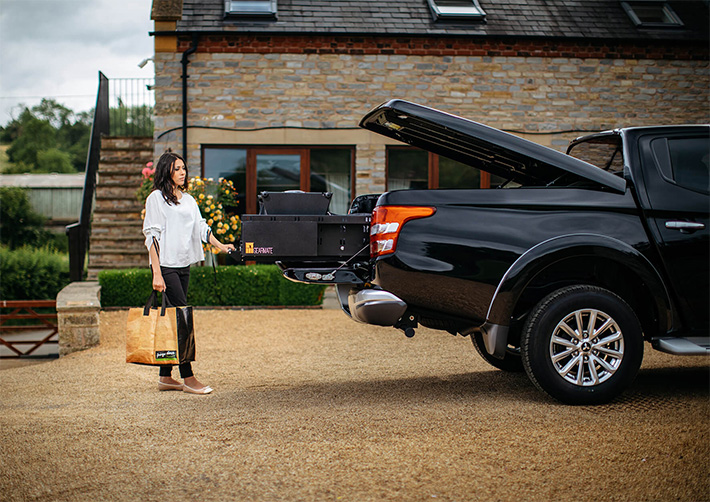 health benefits
Do you often find yourself crawling through the back of your vehicle to find what you need? Having a Gearmate system, whether it's drawers or a slide, will allow you to avoid any discomfort or awkward searching. Save your backs and knees as everything you need is within arms reach with Gearmate!

high quality
Made in Britain with superior quality materials.

no drilling
Hassle free installation with no damage caused.

save time
For every minute spent organising, an hour is earned.

secure storage
Have peace of mind knowing your belongings are safe.

transferable
Easily transferred between vehicles if required.
So I popped by this afternoon and met with a very nice young lady, who was obviously on her way out, but on explaining the issue to her, she promptly went back into the office to find the right person to help me. The young man who appeared from the workshop couldn't have done more to help. After some half an hour of concentrated effort to solve the problem all was well in the end. I just wanted to write to say a big thank you to all the team there for the excellent after sales service given today, it is much appreciated and makes a most refreshing change. Please pass on my thanks to everyone involved. I will of course recommend your product and company every opportunity I can.
Mike Bishop
Love this drawer system - we've put it through it's paces in Scandinavia and Iceland for 6 months in Winter! Quite frankly it's the best system on the market by a country mile!
Four Wheeled Nomad
Had a great experience with Gearmate, from my initial contact with Jen to visiting their premises today for the installation. Nothing was too much trouble. I went for the twin drawer system with a shelving unit which was fitted free of charge. Top quality, well-engineered product and helpful staff, really happy. Thanks again!
Mark Grainger
Almost perfect. Gearmate drawers supplied for my Nissan Navara turned up on time, excellent packaging, easy assembly, top quality and no bits missing or damaged. Huge advantage over other widely advertised plastic drawers is that they are a lot wider and not tapered in the bottom so you don't have to buy special tool boxes. First class customer service and products.
Rob Archer
Very good product and very happy with the service from start to finish. The quality of the drawers is brilliant and all works so nicely. Better than any others I have seen for pick-ups. Free installation offered but I went for a home install and all was straight forward. Would highly recommend.
James Roxburgh
I would like to say a huge thank you to Nicholas, Jennifer and Simon at Gearmate following the installation in my Toyota Hilux. I chose the 226-draw unit with side infill pods and tailgate flap. Then topped that with 2 dog cages for our Springer Spaniels. The units are very well constructed and, in my opinion, also very well designed. I particularly liked the fact that the vehicles existing body fixings and well-engineered brackets are used to mount it all securely..read more
Andrew Bailey
Undeniably, we are pretty darn blessed to have a bespoke foam-cut drawer system precisely housing all the valuables/breakables (with a Fort Knox level of security) in the double cab. Beneath the canopy, another robust drawer system can be found atop of a splendid slide out that's the epitome of practical. The whole ensemble is superb quality, British designed and manufactured. read more
Lisa Morris
Very helpful and friendly service, they even fitted the draw system at 6am so I could get to work on time! Chuffed to bits with the draw system, plenty of room for tools and parts for the farm. Highly recommend.
Max Mitchell
I looked into a lot of storage and canopy options for my Ford Ranger and these products stood out as high build quality and versatility of combinations, ordering was easy and an appointment for fitting was made soon after I collected the truck, friendly and helpful staff on arrival and very well made products. I am 1 month in and would recommend this company to anyone.
Peter Fenton
Absolutely great system and service, fitted it myself, easy to do and the team were a great help in talking me through the parts. Completely professional service from start to finish.
Jason Davies