VANS
The UK's Leading Distributors of Quality VAN, SUV & Pick Up Truck Accessories
Gearmate's modular van racking and storage systems provide a versatile solution for the safe and secure storage of your gear.
The range includes: left and right-handed side racking a bulkhead storage system and a range of deck mounted drawers. Each element is available separately or together as a total storage solution. All of our products are proudly manufactured in the UK from high-grade materials.
Gear Vault
Loaded Locked Secured
Protect your van from tool theft with the Gear Vault, a versatile solution for the safe and secure storage of your valuable work tools. The Gear Vault provides a secure and compact storage solution with a safety lock which has been tested and certified to give you peace of mind that your tools are safe and secure.
The stylish design includes innovative manufacturing technology, made with the highest quality materials. The Gear Vault has a range of special features including integrated LED lighting positioned within the inside lid to help locate your tools conveniently and efficiently.
For more information or to pre-order your Gear Vault please contact the sales team on: T: 01789 595200 E: sales@gearmate.co.uk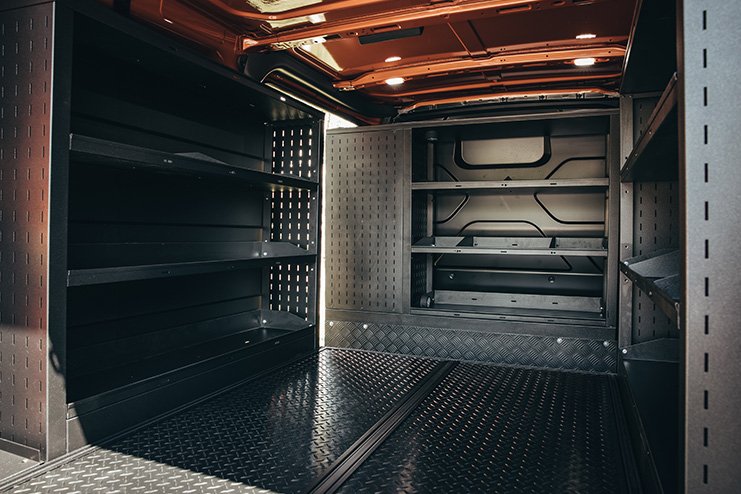 side racking
Manufactured from black powder coated aluminum, Gearmate's racks offer a lightweight non-corrosive solution to keep your everyday items in place. Each rack consists of two re-positional shelves and an upper and lower static shelf. Slotted sides can accommodate a variety of additional accessory holders designed to suit your needs. Gearmate Racks can be fitted as a stand-alone item or alongside our Bulkhead Storage System and variety of Drawers. Proudly made in the UK, Gearmate's racks are a perfect addition to your Ford Custom or VW Van.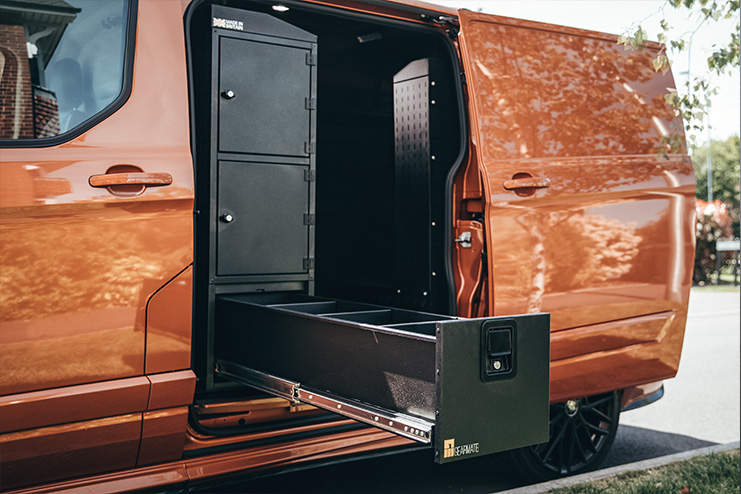 bulkhead storage
Offering the best of both worlds our UK manufactured Bulkhead Storage System comprises of 4 shelves, 2 lockable storage cupboards and a 300mm deep lower drawer. Secured to the vehicle's bulkhead, the cupboards and drawer can be accessed via the side door with access to the racks through the rear. The Bulkhead Storage System offers a highly practical use of space, enabling secure storage of both small and larger items with immediate access.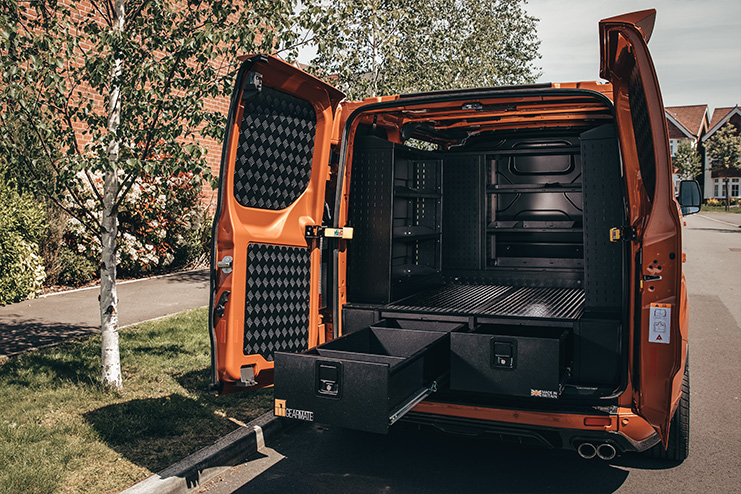 deck mounted drawers
Gearmate Drawers are the most versatile systems on the market. Available in a range of depths, our twin or single drawers offer 100% extension. Choose between Heavy Duty 150Kg capacity drawers or our standard 75Kg, either way, we have a system to suit your requirements. Lockable, secure and highly versatile, our drawers can be fitted in minutes. Our drawers come as either a stand-alone solution or as part of a full package.

high quality
Made in Britain with superior quality materials.

no drilling
Hassle free installation with no damage caused.

save time
For every minute spent organising, an hour is earned.

secure storage
Have peace of mind knowing your belongings are safe.

transferable
Easily transferred between vehicles if required.